Rwanda - 2009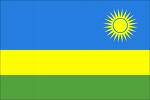 For the updates from the field see our RWANDA BLOG
In September 2009 a team of volunteers headed for Rwanda. This was a hugely exciting project with big ambitions, that brought smiles to the faces of tens of thousands more children.
Rwanda is a country that suffered so much, but there is now a new generation of children growing up who have a real chance to enjoy their childhoods, despite the poverty around them. We wanted to do whatever we could to support them and those that care for them.
As with previous projects we concentrated our efforts in rural areas across the country. In schools, orphan centres, reconciliation programmes, health programmes we did our bit to help support those children who often find themselves on the fringes of national or international help.
And yes, wherever we saw children playing with homemade balls (in the case of Rwanda, often made from banana leaves) we stopped and give them a brand new ball.
One of the wonderful projects we were able to help out along the way was a very successful football Camp for street children. You can read the full story here. (PDF file)

We took more than 3,000 footballs and netballs to give direct to the children, it was a fantastic project.
For more info email us.